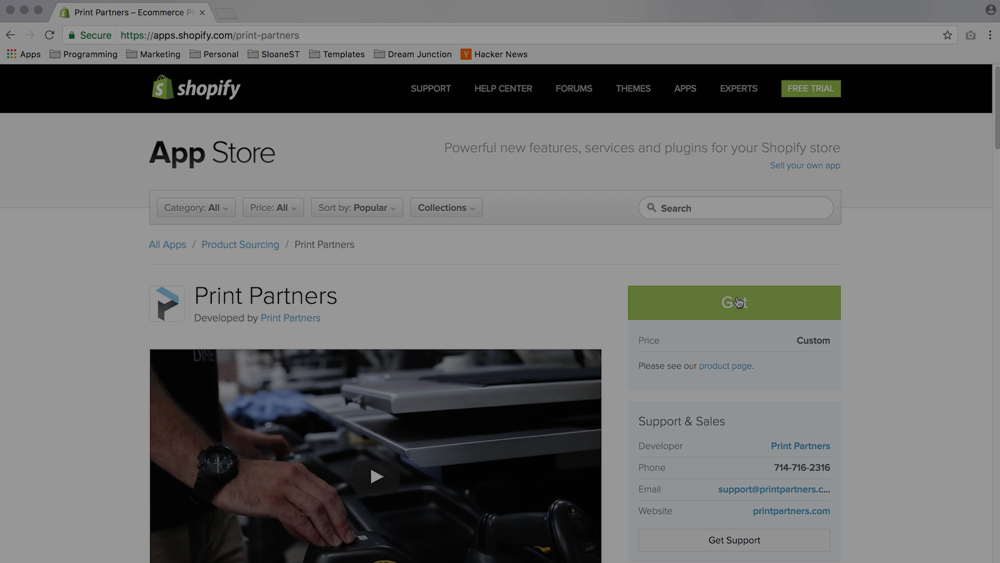 Remember! You'll need to update your personal & payment information in both the Print Partners App and the Shopify App before orders can be fulfilled! Look on the Dashboard of both Apps to see notifications about missing information.
Note: Shopify may also request that you verify your business and attach a Paypal account before you can claim payments.
Welcome
In the next few minutes, we'll be walking through all the steps it takes to launch your own eCommerce store, create custom products and make sales. And we'll do it all without any coding or advanced technical skill.
Also, because we'll be moving fast, I'll only focus on what you need to know to get started. But once you've gotten your feet wet, I think you'll find a lot of other ways you can customize and improve your store.
Note: Once your store is set up, you can check out our Help Center, or Shopify's Forums & Learning Center to find even more ways to customize & market your business.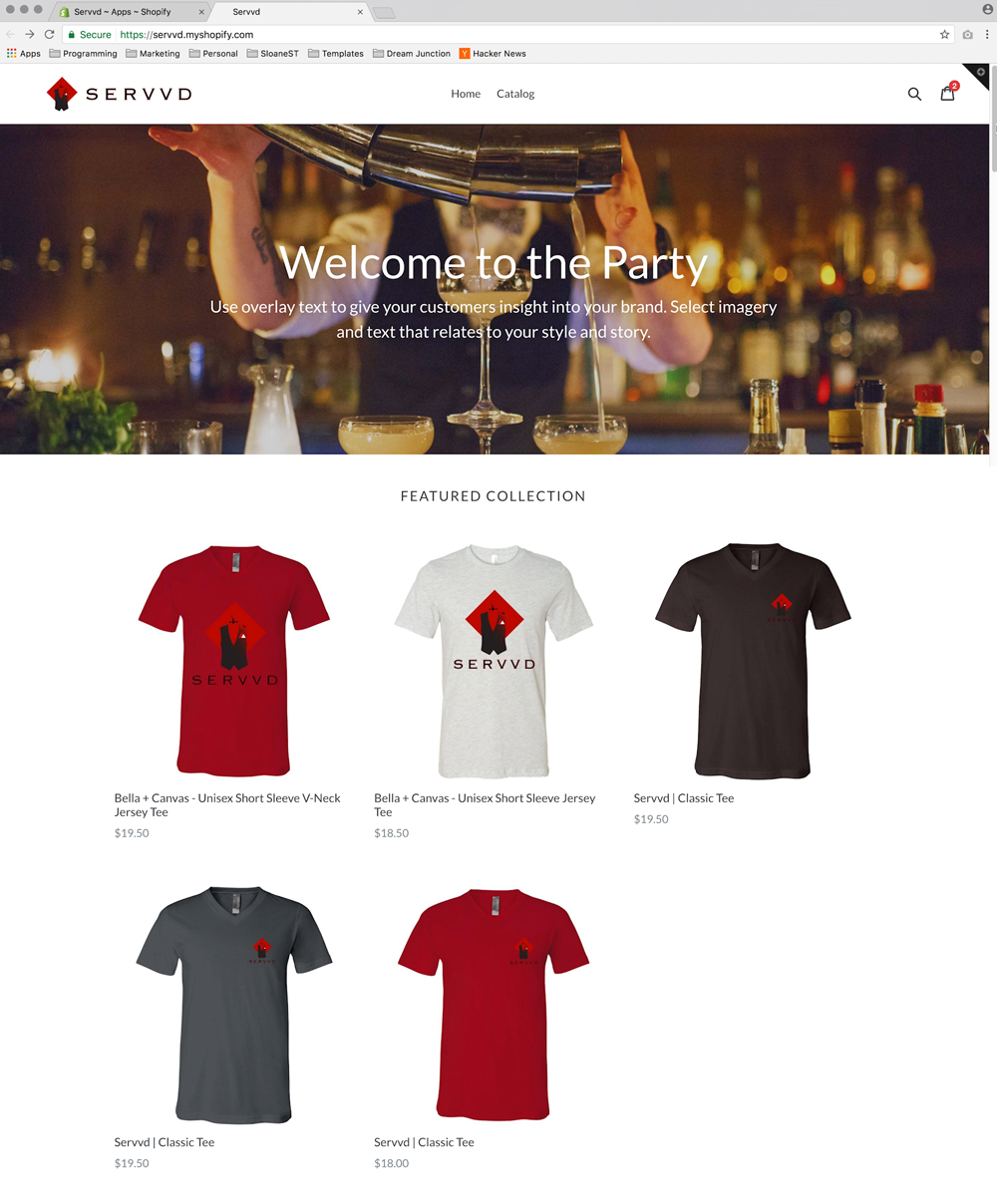 We're also going to be installing the Print Partners App, which will give you access to our state of the art, print-on-demand and drop ship network. Which, in addition to our product designer, will make it easy to grow and scale your business from a few orders a month to thousands without upfront costs or inventory commitments.
Finally, we only have a few minutes, so thank you again for joining the Print Partners' network. Let's jump right in.
Installing the App
Installing the Print Partners App really is as simple as a few clicks. Just head to the link below and click the 'Get' Button.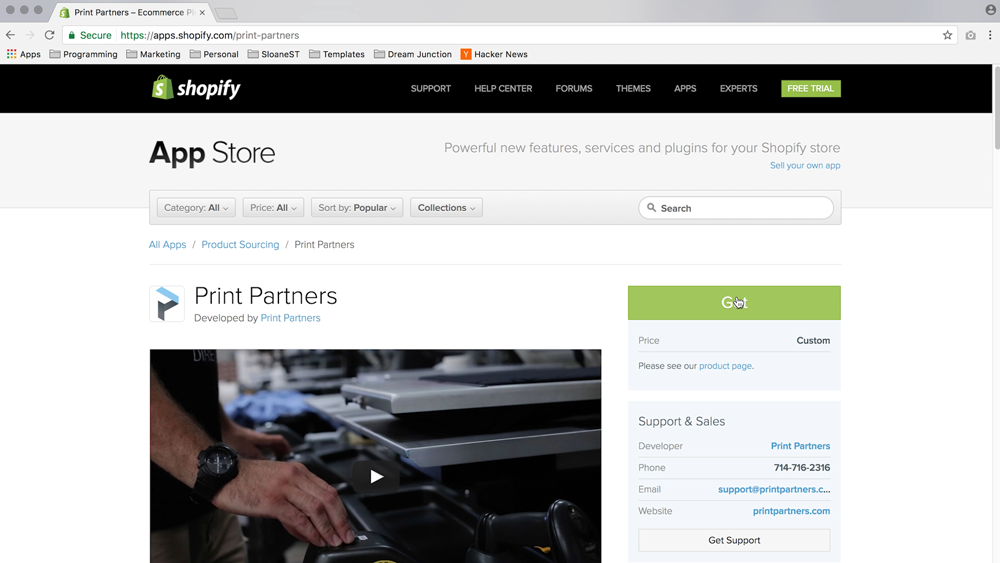 Now, if you already have a Shopify store, you can just enter your credentials here and the App will be installed to your store. If you've never launched a Shopify store before, you can also sign up for your 14-day free trial and create your store with the App already installed right within this panel.
So, choose whatever installation method is appropriate for you and you'll see your store being created or updated in the background.
And that's it! We're connected.
Welcome to your Shopify Dashboard. From here, you can access the Print Partners App, as well as customize your Theme, update your account information, and most importantly- accept payment.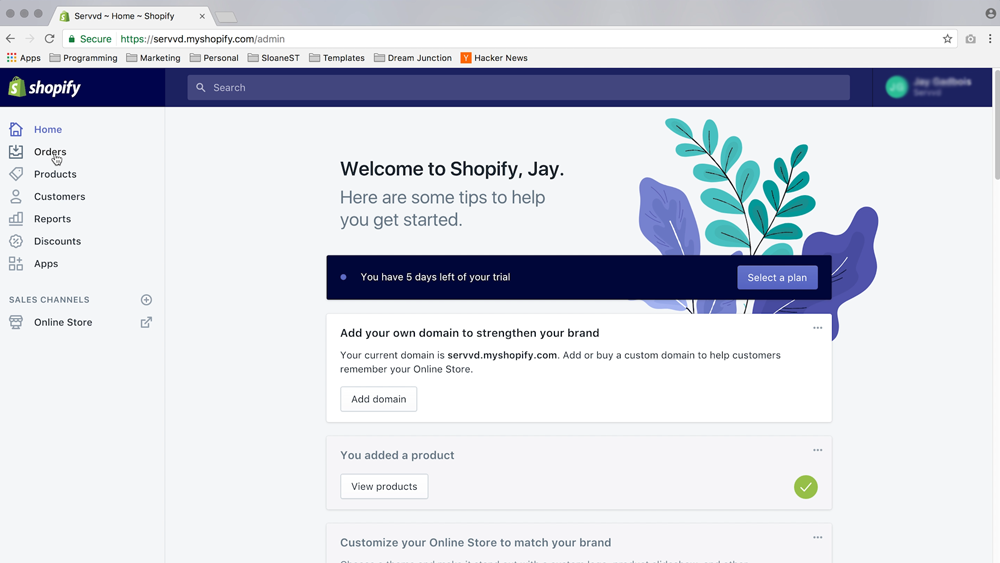 To enter the Print Partners App, we'll find the App section in the Shopify menu to the left. From there, you should see the Print Partners logo and a blue link to the Application.
Once we're live in the Print Partners App, you'll see the sections for your Print Partners Dashboard which can track all your purchase metrics. Your Orders page, which tracks sales and allows you to place manual orders, the Help center- and of course the Product Designer.
Note: The Print Partners App & Shopify have different menus. As you can see below, the Shopify menu is off to the left side, and controls administrative tasks & how your store looks and feels. The menu for the Print Partners App is along the top, next to your name, and controls the creation and management of products. Orders are visible in both menus.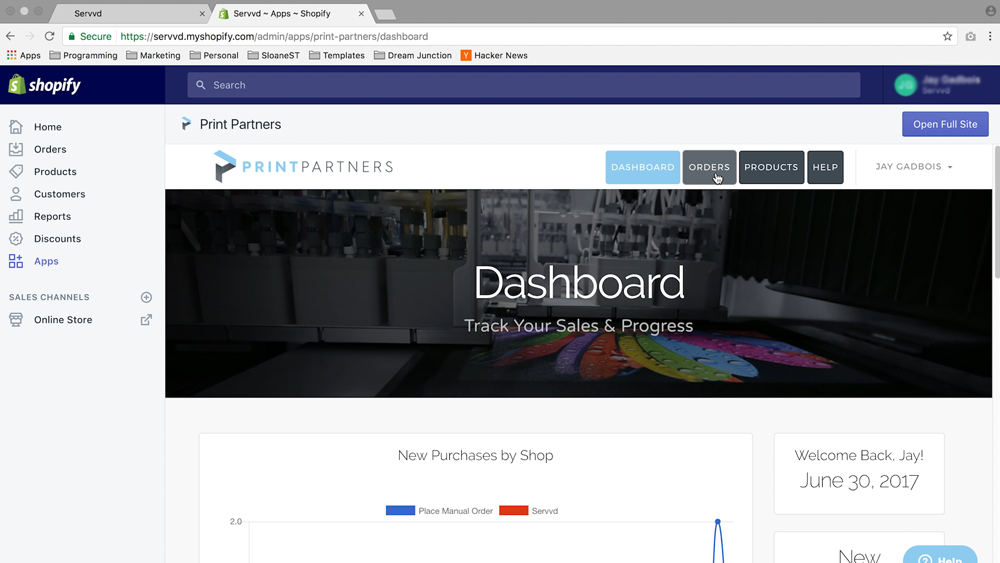 Account Information
Unfortunately there's one more thing we need to do before we can start designing products.
Let's head into our account settings. You can do that by clicking on your name inside the Print Partners App, and then choosing the dropdown option for My Account.
On this page, you'll have three quick tabs of information to fill out. The first of which will allow us to ship your products using a label from your actual business instead of Print Partners.
The next page is your billing information.
Now, something that is important to note here: You will be paid directly for every single purchase made through your Shopify store. Then, once the order is initiated, Print Partners will bill your card on file for the shipping & cost of the garment- leaving the profit from the sale in your account.
Finally, if you are a resale or wholesale merchant (only valid for resellers in California), you'll also have the opportunity to upload your state forms here to remove the sales tax included in your transactions with us (therein making you responsible for the tax when you do make a sale). If you're a new seller, this is something you may want to look into as you grow, but it is not needed to get started.
Make sure to press that save button and let's start building your products.
Your First Product
To get started, navigate to the Products tab in the Print Partners App, and press "Create Products". From here, it should be pretty intuitive.
Choose styles, colors and sizes using the panel on the left. Then use the panel on the right to upload and place your artwork (just click on the shirt). You can also move, resize, and center your artwork on both the front and the back of the garment.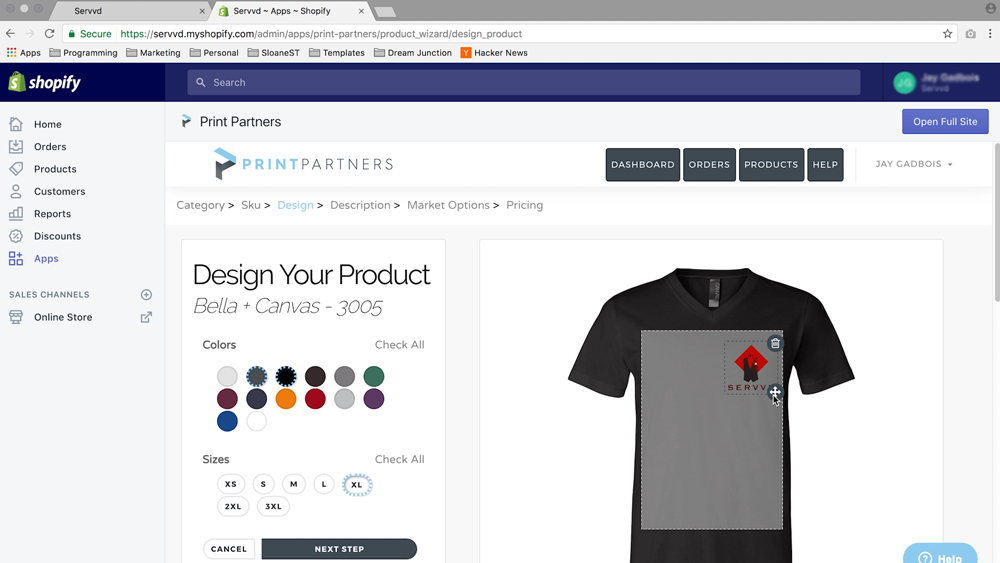 Note: Don't forget you can print different designs on both the front and the back of most garments. Also, unlike screenprinting, using more colors won't cost you more!
Next, we'll just need to choose which of your eCommerce stores the garment will go in. This is because some of our sellers have multiple Shopify stores under the same Print Partners account. But, if you are just getting started, the only option you'll have is the store we just created.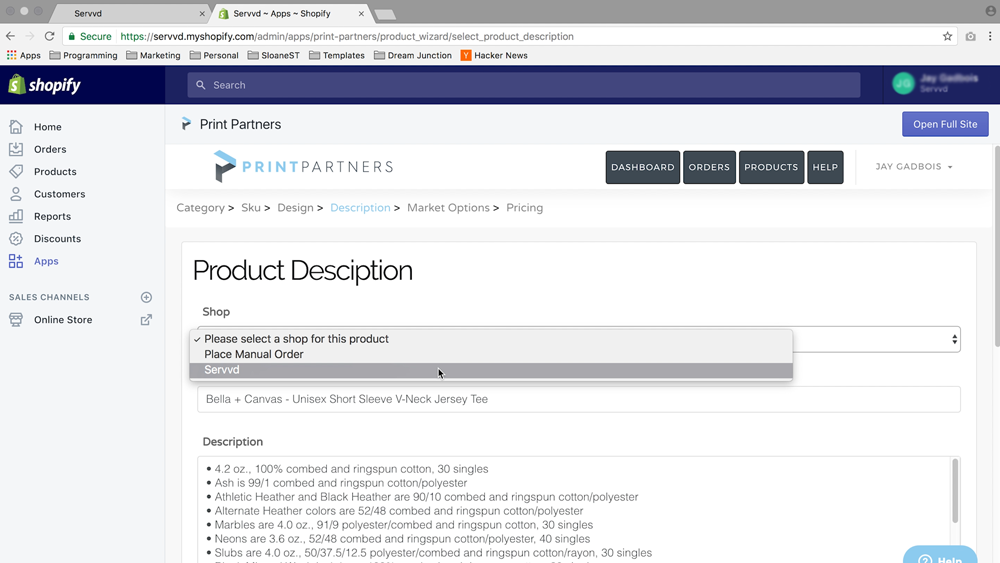 Then on the next page, you can choose which pages of your Shopify store the products will go on. Once again, If you're just creating your store now, "Homepage" will be the only option, but you can add more catalog pages to your site whenever you'd like.
Examples of other site pages would include "Womens", "Mens", "Activewear", "Sweaters", "New Years", or any other way you want to organize your website.
Site Page URL Examples:
www.servvd.com/kids
www.servvd.com/summer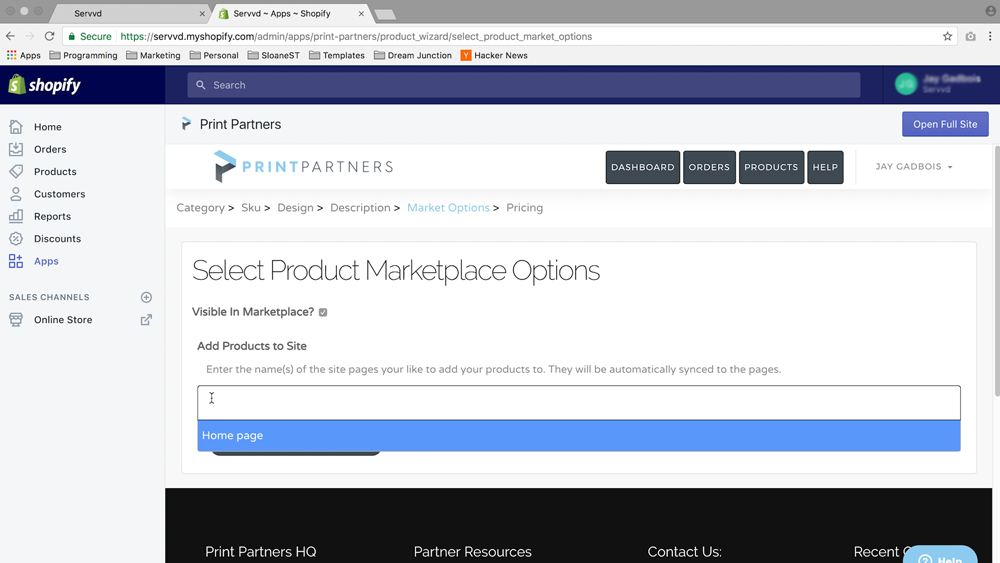 Finally, you'll have the option to set your pricing. We populate a suggested price here for you, but it's really up to you to experiment with your market and find out how to best maximize sales.
Also, while "Bulk Pricing" will change the price of all garments, some of the larger sizes (2XL+) cost extra. The "Bulk" calculator will automatically add that extra cost to the bulk price you defined.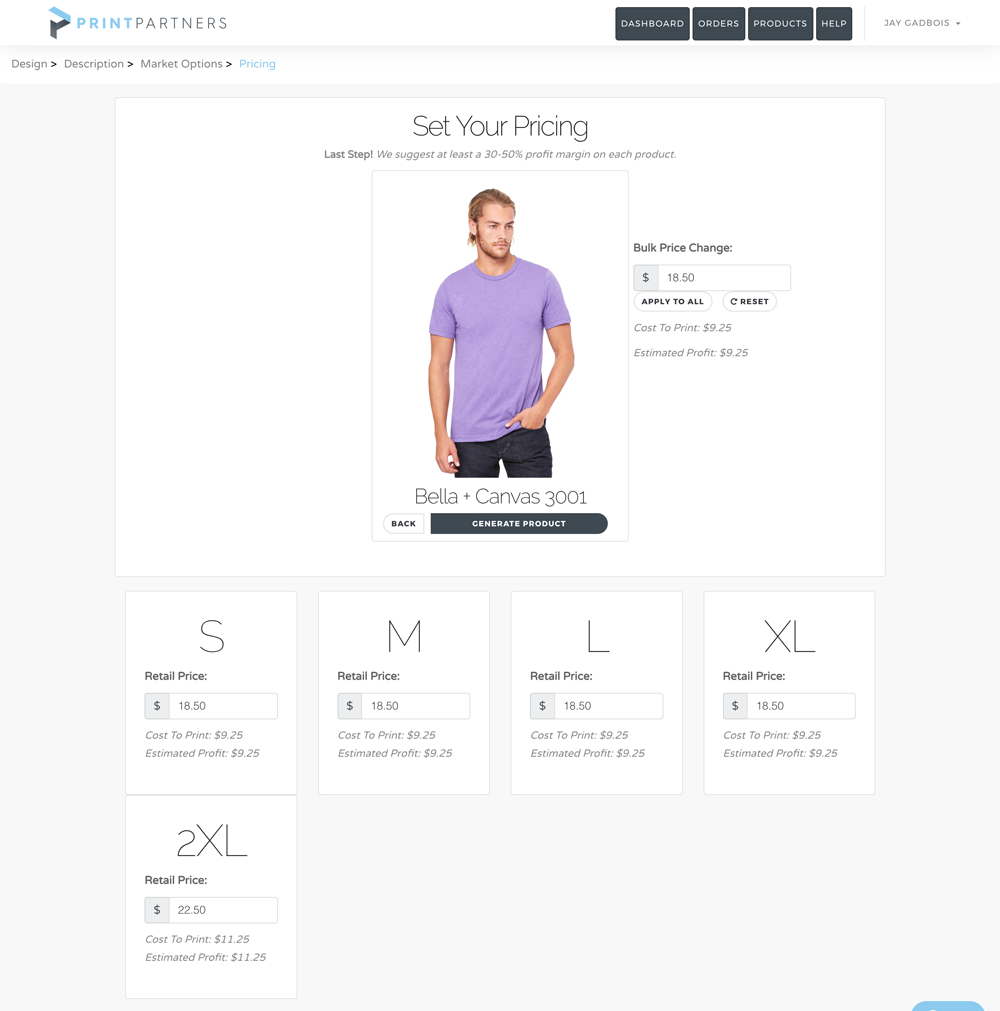 That's it! Your products are now being generated, and if you launch the live preview of your store, you'll be able to see the product we just created. If you don't see it just yet, give your products a few more minutes to finish processing and press refresh.
If you still don't see anything, go back to the products menu and make sure your products were assigned to the intended page.
Once your first product appears in your store, click on it to see its automatically generated product page. As you can see, it comes pre-loaded with your mockup, title, and product description as well as the size and color options you selected in the generation process.
You'll also notice your product has a working "Buy" or "Add to Cart" button.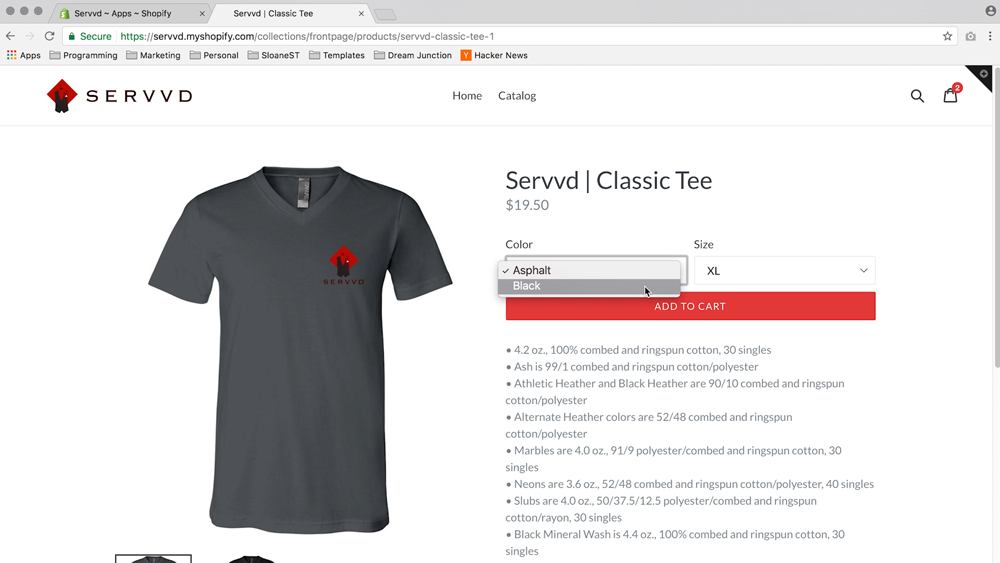 Congratulations! You've completed your Shopify integration and you have your first product for sale! However, I haven't been talking for a full seven minutes, so I want to talk about some of the different ways you can improve and customize your store from here.
Customize Your Store
First of all, if you're new to Shopify, you'll need to update your payment information in the Shopify system before you can get paid or take your site public. Shopify will give you warnings along the way, but it's still best to enter that before you start attracting customers. Once again, because of how the automatic system works, I'd suggest using the same payment method you used in the Print Partners App.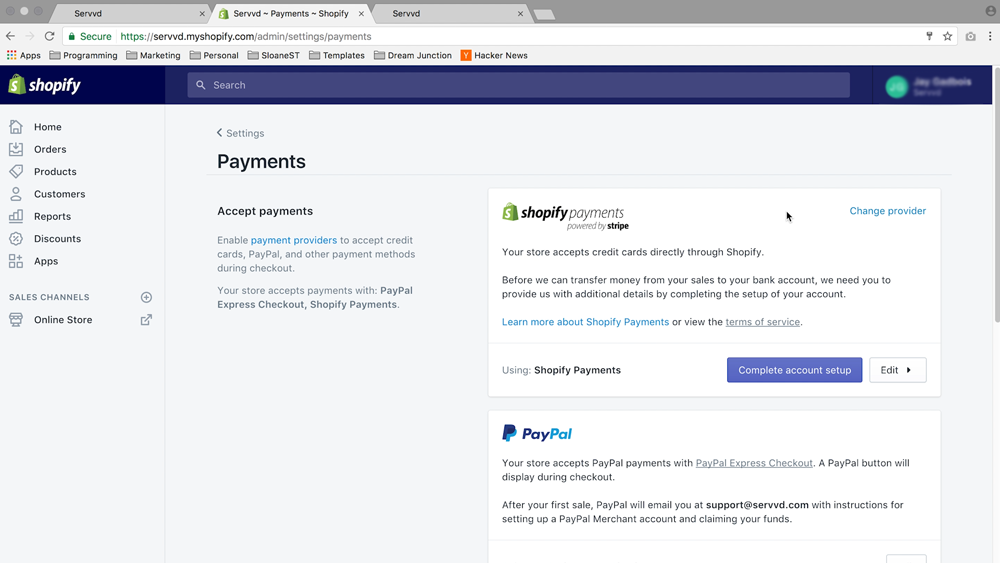 Second, is the Shopify Theme, which you can think of kind of like a digital template for your eCommerce store. You can change themes as often as you want. Your products will not be removed or changed, Shopify just uses a different preset style to display your product on the page.
Note: Changing themes does not affect your products but might wipe away some of your old design work (like words or images on your homepage)!
Right now, you are using the default theme, Debut, but Shopify comes with a host of other premium and free themes that you can choose from to customize your store. Access the Theme Store by pressing Online Store in the Shopify side menu, and choosing the drop down option that says "Theme".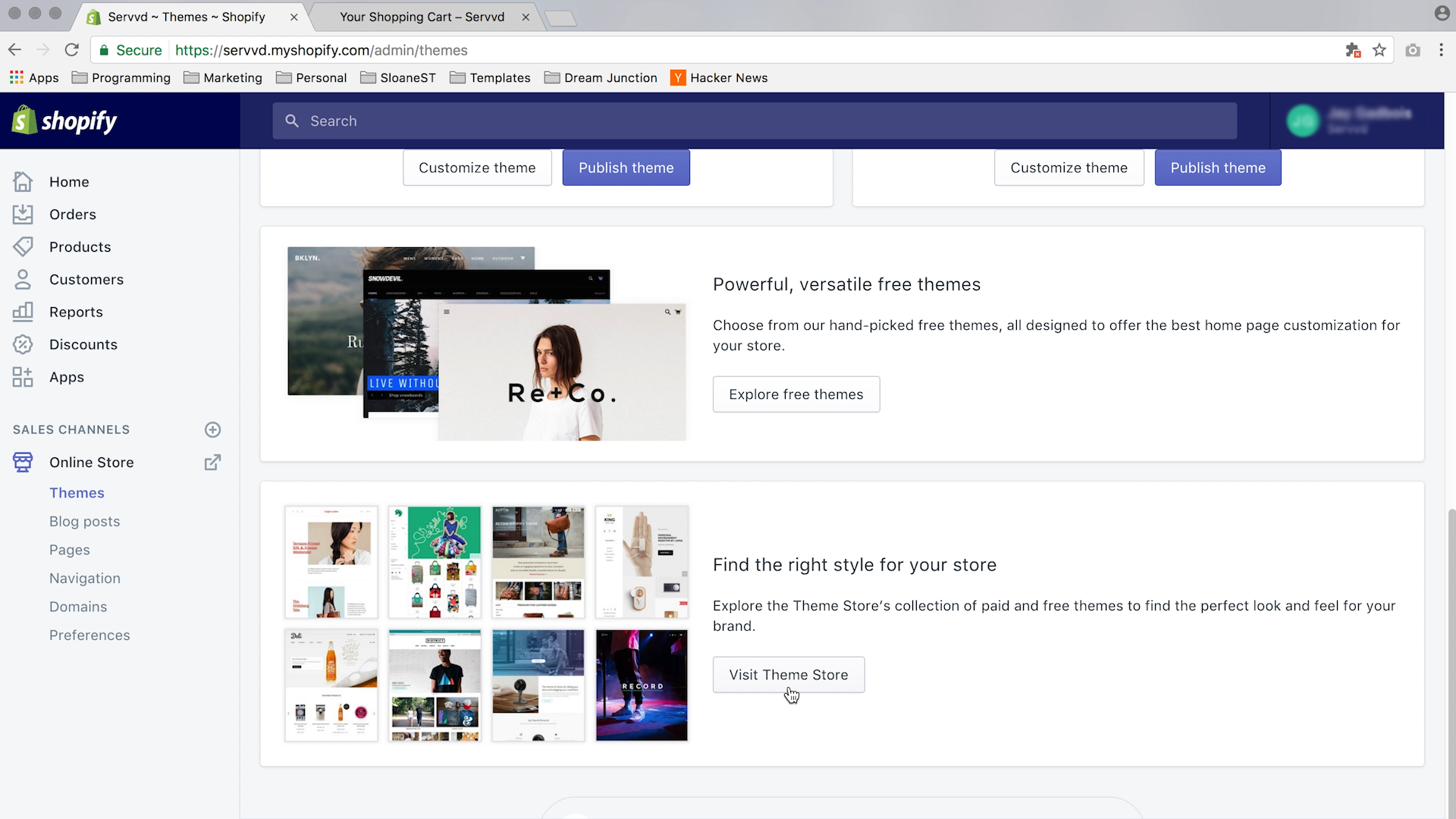 You can also pick up themes from third party sellers like Envato Market, where you might be able to find some work from 3rd party sellers for considerably less cash. These themes aren't sanctioned by Shopify, but I've still found some great themes here for a fourth of the price of Shopify's Premium store. (Use at your own risk)
From there, it's just like editing a Facebook Profile page. Press the Customize button above the theme you wish to use. From there you can customize each section, add new widgets like a video section, and customize your colors and text.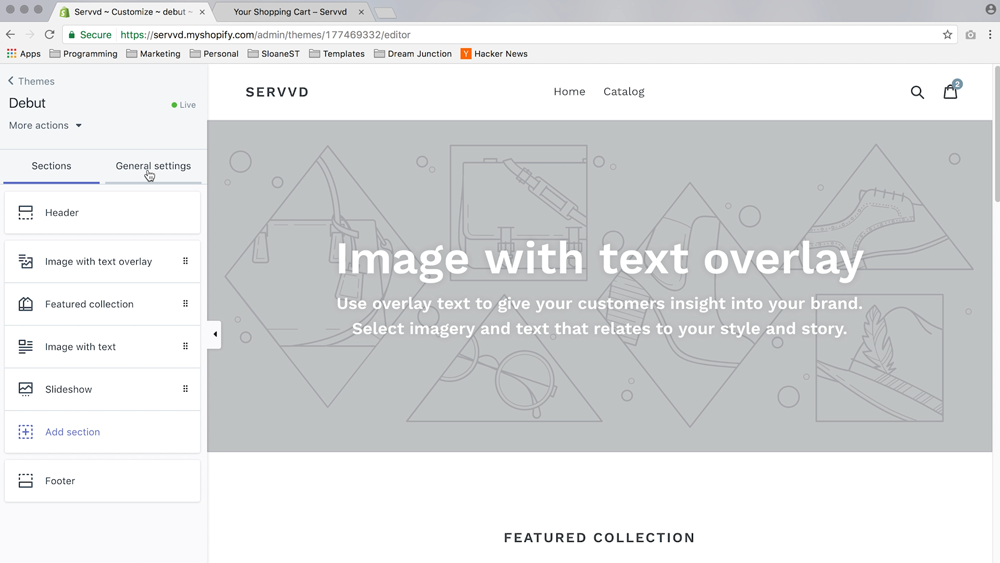 Every Shopify Theme is a little different, so take some time to edit each section and see what kinds of things you can do. If you don't know what something does, just put in some dummy text or upload a dummy image and see what happens when the page updates. Once again, every "Theme" is unique but this will give you a chance to tailor your store to your customers' needs & the style of your brand.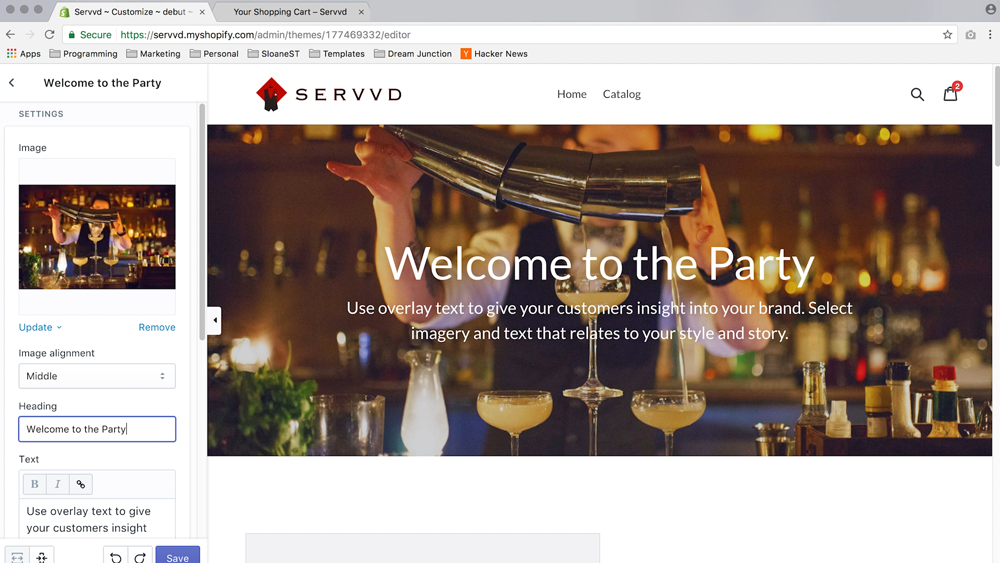 Finally, you may want to buy a domain for your store. While Shopify will provide you with a .myshopify link for free, you can also purchase a domain straight from the Shopify Dashboard, or from a third party provider like GoDaddy, HostGator, or Bluehost.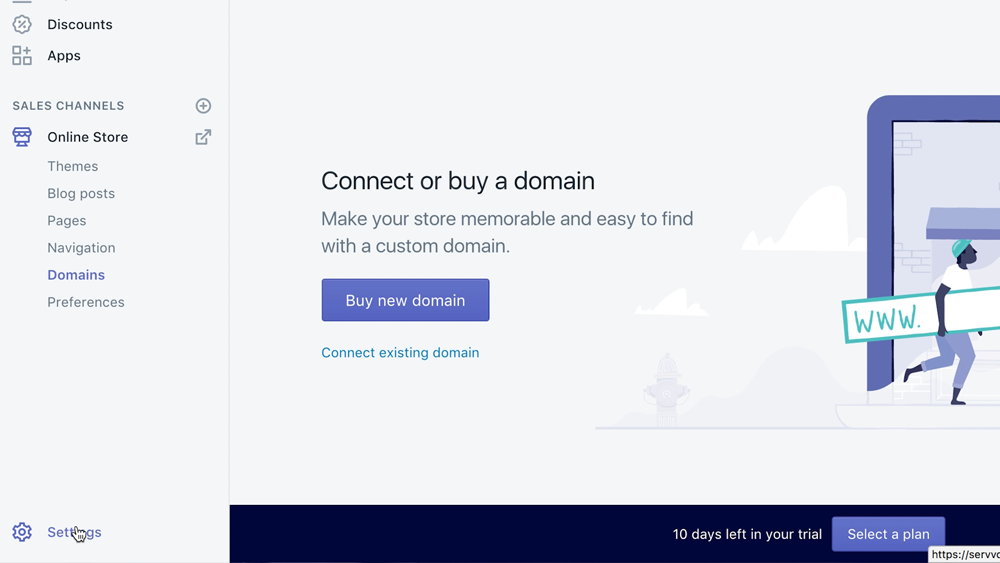 This will enable your store to have a more simple and proprietary address like servvd.com versus servvd.myshopify.com, which may also help with search relevancy and marketing.
Well that's it. Our seven minutes are finished. In the future, we'll be posting more business friendly tutorials in the Help Center to assist your growth from here, but ideally this gave you a strong start for your brand new business and a concrete idea of how it all works.
Good luck and we look forward to seeing your first designs come through.
-The Print Partners Support Team
support@printpartners.com
714-716-2316